Helping students reach their full potential has been a perennial challenge of educators and parents alike, with many different factors at play and a growing understanding of how to address these challenges. A key aspect to this potential being fulfilled is understanding and improving the status of student's social, emotional and physical wellbeing.
One study showed that 1 in 7 (13.9%) children and adolescents aged 4-17 years experienced a mental disorder such as anxiety disorders, major depressive disorders, ADHD and conduct disorders in 2015. Of these affected children, 81.4% were found to be mildly, moderately or severely impacted in their school/work life. With another study from 2017 showing that Australian students with a mental disorder in Year 3 were, on average, 7-11 months behind students with no mental disorder. However, by Year 9 they were an average 1.5 to 2.8 years behind.
In response to this evidence the Australian Government have recently undertaken a review of the National Safe Schools Framework. This acknowledges that changes need to be made in order to address contemporary concerns negatively impacting student wellbeing, with particular emphasis on applying a socio-cultural and socio-technical perspective towards:
The educational, learning, safety and wellbeing needs of students.

The rapidly evolving social, technical and cultural contexts and capitals.

Opportunities through school communities for building safe and supportive environments.
In response to the review, the Australian Government launched the Australian Student Wellbeing Framework. A foundational document that serves as a best practice guide for schools in terms of establishing policies and support mechanisms to improve overall levels of student wellbeing and reach the ultimate vision of every student fulfilling their maximum potential.
Incorporating the new framework into learning
The wellbeing framework is broken down into five key elements which work together with each state's individual education goals and provides a guide into specific areas in which schools should be focussing their attention.
Leadership: Principals and school leaders play an active role in building positive learning environment where the whole school community feels included connected, safe and respected.

Inclusion: All members of the school community are active participants in building a welcoming school culture that values diversity, and fosters positive, respectful relationships.

Student Voice: Students are active participants in their own learning and wellbeing, feel connected and use their social and emotional skills to be respectful, resilient and safe.

Partnerships: Families and communities collaborate as partners with the school to support student learning, safety and wellbeing.

Support: School staff, students and families share and cultivate an understanding of wellbeing and support for positive behaviour and how this supports effective teaching and learning.
One of the crucial benefits of social, emotional and physical learning programs is that they empower not only students, but teachers and families to make positive decisions in regards to their own wellbeing and of others around them. Skills such as social awareness, self management and resilience, as well as stress and anxiety management strategies are a few ways in which the high impact on student's learning can be reduced.
The wellbeing framework has laid the groundwork to overcome obstacles to successful learning, it also calls for a targeted approach towards student wellbeing.
So how can schools use social emotional learning/wellbeing education to address student's barriers to learning?
Through the implementation of curriculum-aligned programs which educate and improve student's social, emotional and physical learning schools are able to better integrate wellbeing into their learning. Such programs compliment students' IQ with an improved level of EQ giving them strength of character through resilience to succeed in education and in life. Life Skills Group have a wide range of student programs which are specifically developed for students in each year level from pre-school and primary, through to secondary school.
See below for a breakdown of how these programs relate to various key learning frameworks: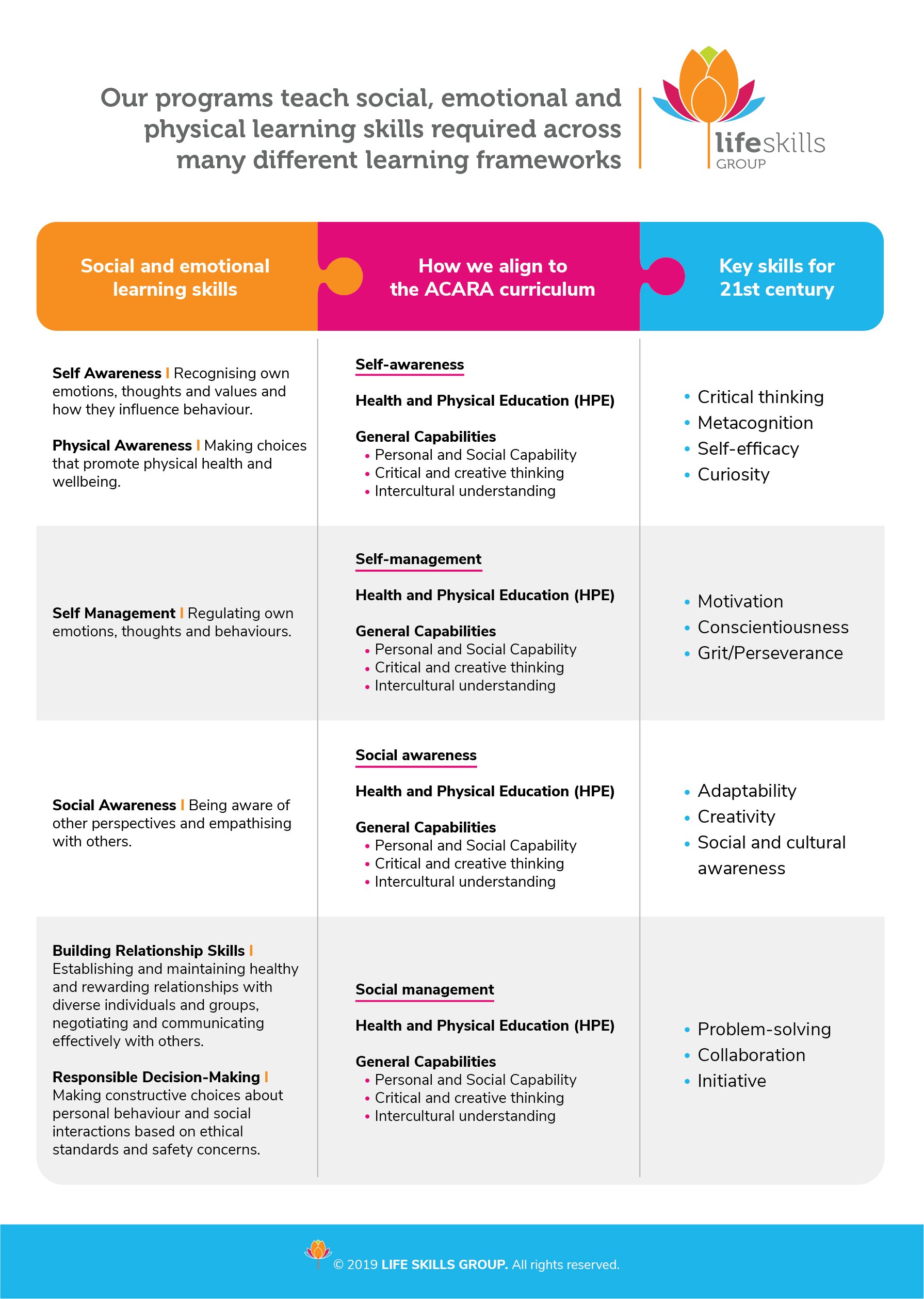 Does your school need a more focussed approach to social, emotional and physical learning?
Request more information about our SEL / Wellbeing / Mindfulness programs today, and find out why Life Skills Group are the preferred wellbeing partner of hundreds of schools across Australia!